You might be asking yourself: How much do gutters cost? First, gutters protect your foundation and walls from water damage, but installing them can be expensive, so it's important to plan your budget ahead of time. If you are in need of new ones, read on because we'll discuss the average cost of installation and the factors that can affect the final price. 
If you want more help with your roofing project, check out our gutter services from Heritage Exteriors and get in touch with us today!
The Average Cost of Gutter Installation
Planning to have new gutters installed in your home?
Expect to shell out between $600 to $8,000 (the average homeowner ends up paying around $2,000, according to Market Watch).
However, the final price will depend on a number of factors, including the size, height, and complexity of your roof, your chosen material, the labor costs in your area, and more.
How Much Do Gutters Cost: Factors That Affect the Final Cost
1. Materials
The type of material you choose—whether it's aluminum, galvanized steel, copper, vinyl, or zinc—has the biggest impact on the final price. Let's discuss each material and its average cost:
Aluminum is the most popular gutter material for a reason: it is affordable, easy to install, and resistant to harsh weather conditions. It is also lightweight and anti-corrosive. The cost of these gutters ranges from $10 to $20 per linear foot, depending on the quality and thickness of the material.
Next is galvanized steel, a popular choice for homeowners because it is durable, affordable, and resistant to weather conditions. The gutters are coated with a layer of zinc, which protects them from rust and corrosion.
However, they can be quite heavy and more challenging to install. So, if you choose this type of gutter, we recommend hiring a professional contractor to install them.
You may also prefer copper gutters, which are probably the most durable on the market, with an average lifespan of nearly 100 years. Copper gutters are also known for their charming bronzed look, which develops over time. However, they can be quite expensive.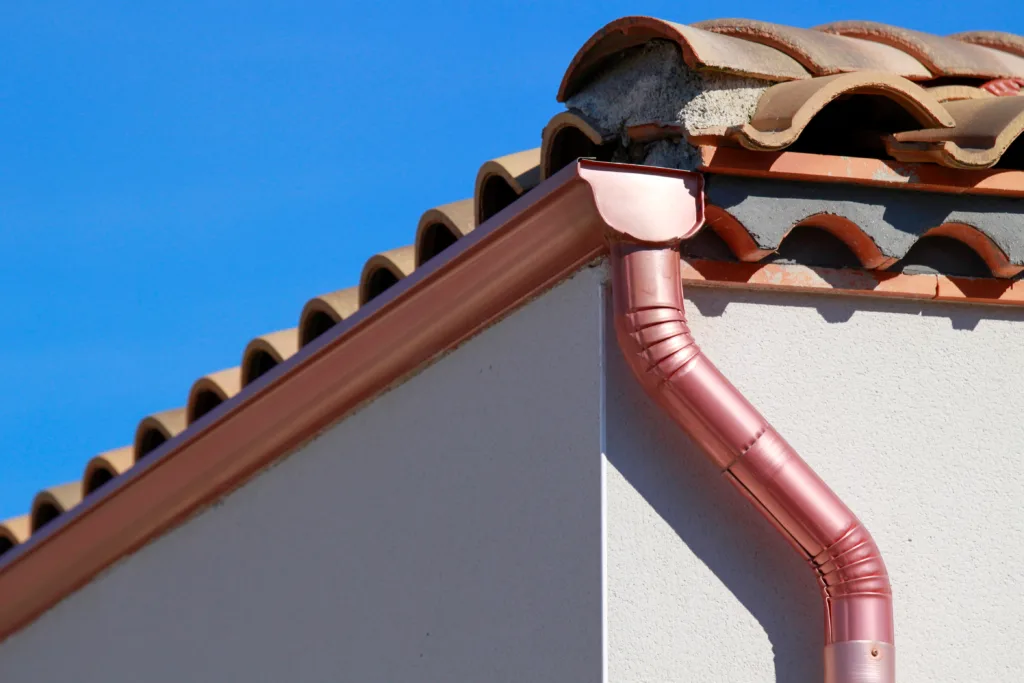 Now, if you are looking to save money, vinyl gutters are your most affordable option at $4 to $8 per linear foot. Because they are lightweight, they are not as durable as other types of gutters, such as aluminum or copper. Typically, vinyl gutters can be bought at places like Menards and are sectioned gutters. They are prone to leaking and are known to collapse under heavy weight, so they are not suitable for areas with frequent snowfall and rain.
Finally, Zinc is another high-end option that is less expensive than copper. They are highly durable, with an average lifespan of 80 years, and resist weather conditions well, making them a good investment in the long run. Zinc gutters also develop a beautiful patina over time, which adds to the curb appeal of a home.
2. Types
Gutters come in two types: sectional and seamless. Each one comes with its own pros, cons, and price tag.
First, we have sectional gutters. They are made up of smaller pieces that are connected together during installation. While they are more affordable than other types of gutters, they are also more prone to leaks and sagging where the pieces meet. This means they can cause roof leaks and sagging where each two pieces meet. We don't recommend you install sectional gutters in your home.
Unlike sectional gutters, seamless gutters don't come in small pieces. Instead, they're installed from one piece of material, which requires specific equipment and mastery. They're more challenging to install, so a DIY gutter installation isn't a possibility. Also, they're more expensive, as they cost $10-25 per linear foot.
However, seamless gutters are worth the price because they're more durable, less prone to leaks and sagging, and less likely to need frequent maintenance.
3. Styles
Gutters also come in many styles; here are the two most common in households: K-style and half-round.
Most commonly installed, K-style gutters boast superb water drainage capabilities. Designed to fit most architectural styles, they have a basic appearance that consists of a flat bottom with curved sides. On average, they cost $12 to $25 per linear foot.
On the other hand, half-round gutters look like pipes that are cut in half, and they also provide excellent drainage. However, they hold less water and are slightly more challenging to install than K-style gutters. As for the cost, you should expect to pay about $18 to $30 per linear foot.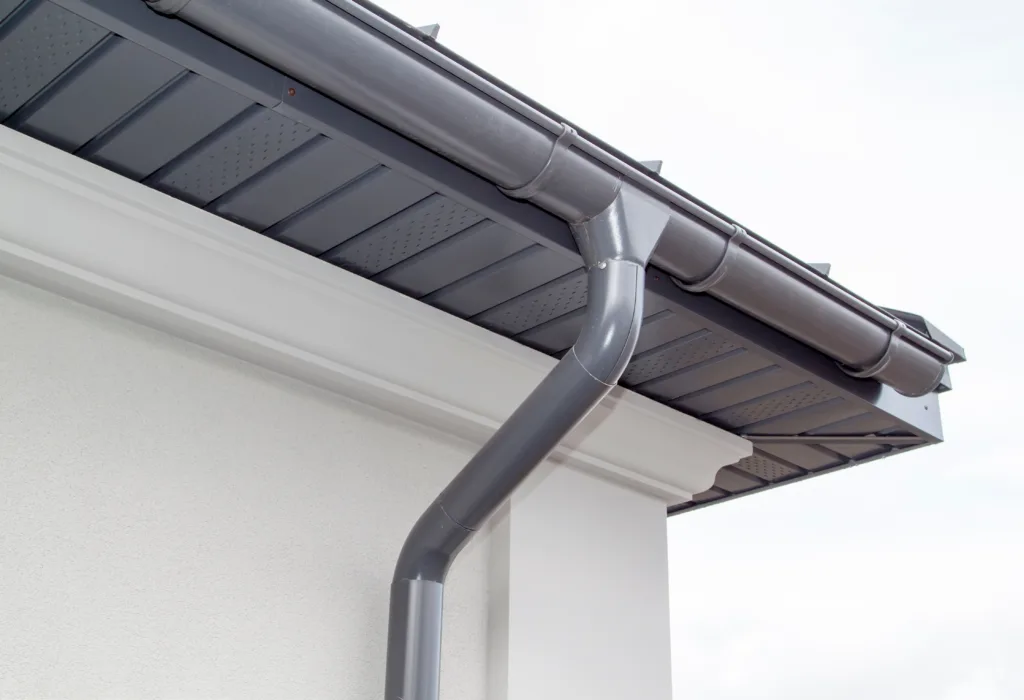 4. Labor Prices in Your Area
Aside from materials and style, the labor prices in your area will definitely affect the final gutter installation cost you pay. As widely known, labor wages are higher in some states than others, more specifically, populous states. For instance, if you live in New York or California, you should expect to pay more than average.
Also, the labor prices will go up depending on the complexity of the job, the size of your house, and how many stories your property has. If you want an accurate price quote, you can request one on our website.
5. Extra Features
If you want to add any extra features to your gutter system, you do have some options. You can opt for uncovered gutters, which require regular maintenance, or choose a leaf cover to minimize debris accumulation.
To Wrap Up
If you want to install gutters for your property, you should expect to pay anywhere from $600 to $8,000, depending on the gutter material, type, and style you choose. If you want a free estimate for gutters, contact us today!